SUP-2300 Artificial Intelligence PID Regulator
Product Detail
Product Tags
 Product
Artificial Intelligence PID Regulator
 Model
SUP-2300
 Dimension
A. 160*80*110mm
B. 80*160*110mm
C. 96*96*110mm
D. 96*48*110mm
E. 48*96*110mm
F. 72*72*110mm
H. 48*48*110mm
K. 160*80*110mm
L. 80*160*110mm
M. 96*96*110mm
Measurement accuracy
±0.2%FS
Transmission output
Analog output—-4-20mA、1-5v、
0-10mA、0-5V、0-20mA、0-10V
Alarm Output
ALM—-With upper and lower limit alarm function, with alarm return difference setting;Relay capacity:
AC125V/0.5A(small)DC24V/0.5A(small)(Resistive load)
AC220V/2A(big)DC24V/2A(big)(Resistive load)
Note: When the load exceeds the relay contact capacity, please do not directly carry the load
Power supply
AC/DC100~240V (Frequency 50/60Hz)  Power consumption≤5W
DC 12~36V  Power consumption≤3W
Use environment
Operating temperature(-10~50℃)No condensation, no icing
Printout
RS232 printing interface, micro-matched printer can realize manual, timing and alarm printing functions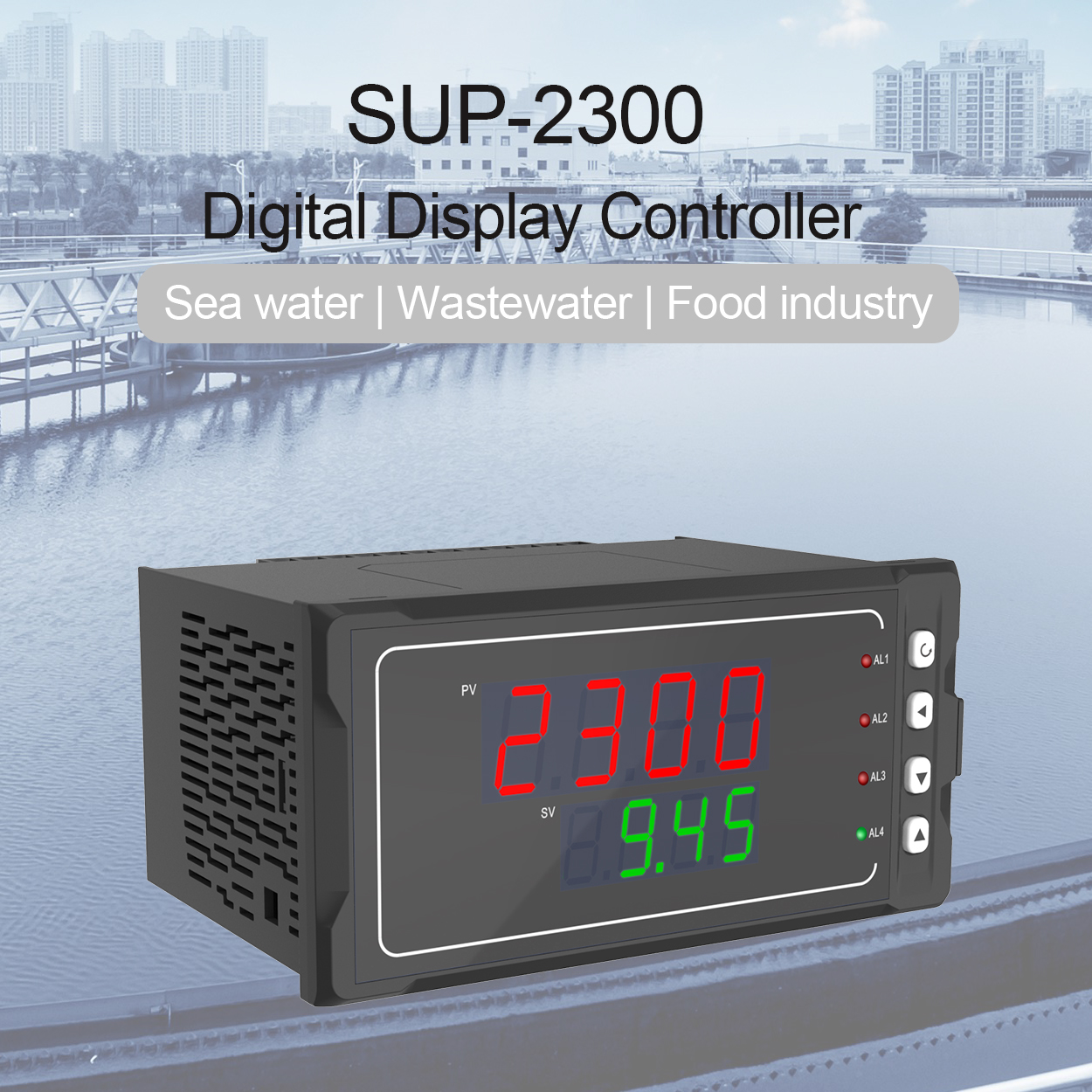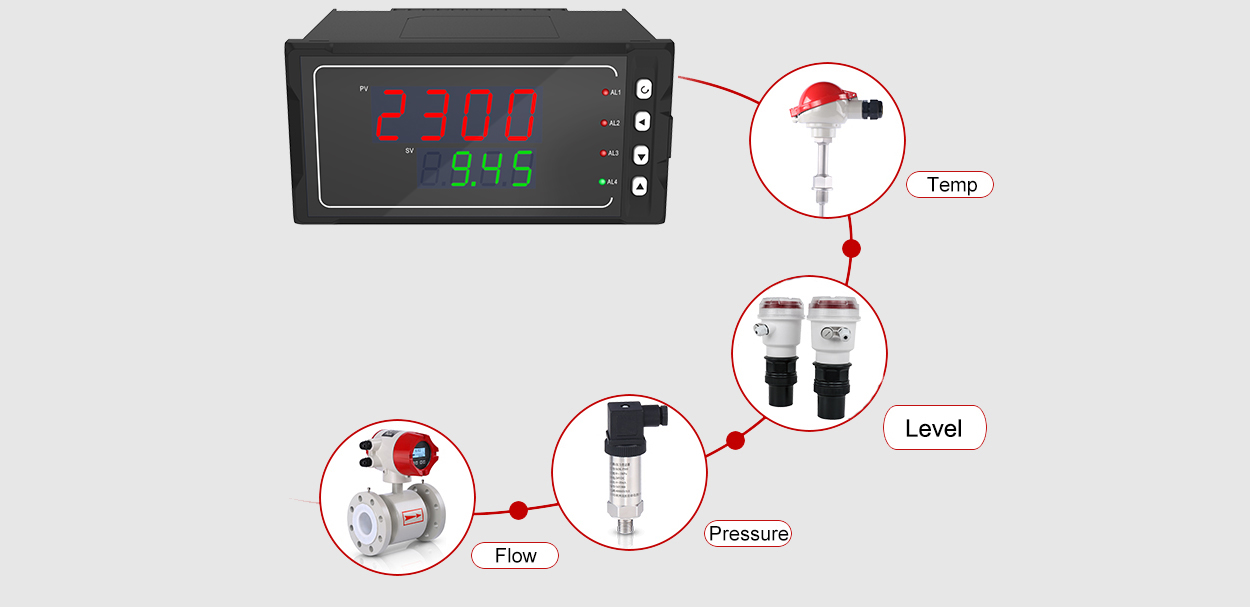 Artificial intelligence PID regulator adopts advanced experts PID intelligence algorithm, with high control precision, no overshoot, and fuzzy self-tuning function. The output is designed as modular architecture; you can acquire various control types by replacing different function modules. You can choose PID control output type as any of current, voltage, SSR solid state relay, single / three-phase SCR zero-over triggering and so on. Besides it has another two ways alarm output, and optional transmission output, or standard MODBUS communication interface. The instrument can replace the servo amplifier in driving the valve (valve position control function) directly, external given function, and manual / automatic no-disturbance switch function.
With multiple types of input functions, one instrument can be used with different various input signals, reducing the number of instruments greatly. It has a very good applicability, and can be used with various types of sensors, transmitters used in conjunction to achieve on the temperature, pressure, liquid level, capacity, power and other physical quantities measurements show that, and with all the various actuators on the electrical and electromagnetic heating equipment, electric valves PID regulation and control, alarm control, data acquisition functions.
Input

Input signals

Current

Voltage

Resistance

Thermocouple

Input Impedance

≤250Ω

≥500KΩ

Maximum input current

30mA

Maximum input voltage

<6V

Output

Output signals

Current

Voltage

Relay

24V Distribution or feeder

Output load capability

≤500Ω

≥250 KΩ

(Note: Please replace the module for higher  load capacity)

AC220V/0.6(small)

DC24V/0.6A(small)

AC220V/3A(big)

DC24V/3A(big)

According to Remarks

≤30mA

Adjustive output

Control output

Relay

Single-phase SCR

Dual-phase SCR

Solid relay

Output load

AC220V/0.6A(small)

DC24V/0.6A(small)

AC220V/3A(big)

DC24V/3A(big)

According to Remarks

AC600V/0.1A

AV600V/3A

(Should be remarked if driven directly)

DC 5-24V/30mA

Comprehensive parameter

Accuracy

0.2%FS±1word

Setting model

Panel touch key

parameter setting values locking;

store the setting values permanently

Display style

-1999 ~ 9999 measured values, set values, external given values display;

0~100% valve position display

0 ~ 100% output values display;

LBD display for working state

Working environment

Ambient temperature: 0 ~ 50

℃

;

Relative humidity: ≤ 85% RH;

Far from strong corrosive gas

Power supply

AC 100 ~ 240V(switching power), (50-60HZ);

DC 20 ~ 29V

Power

≤5W

Frame

Standard snap-on

Communication

Standard MODBUS communication protocol,

RS-485, communication distance up to 1 km,

RS-232 ,communication distance up to 15 meters

Note: While with communication function, the communication converter should be a active one.
Note: The output load capacity of external dimensions D, E instrument relay is the AC220V/0.6A, DC24V/0.6A
---
Previous:
SUP-RD902T 26GHz Radar level meter
---