SUP-1300 Easy Fuzzy PID Regulator
Product Detail
Product Tags
 Product
Easy Fuzzy PID Regulator
 Model
SUP-1300
 Display
Dual-screen LED display
 Dimension
A. 160*80*110mm
B. 80*160*110mm
C. 96*96*110mm
D. 96*48*110mm
E. 48*96*110mm
F. 72*72*110mm
H. 48*48*110mm
Measurement accuracy
±0.3%FS
Transmission output
Analog output—-4-20mA、1-5v、
0-10mA、0-5V、0-20mA、0-10V
Alarm Output
With upper and lower limit alarm function, with alarm return difference setting;capacity:
AC125V/0.5A(small)DC24V/0.5A(small)(Resistive load)
AC220V/2A(big)DC24V/2A(big)(Resistive load)
Note: When the load exceeds the relay contact capacity, please do not directly carry the load
Power supply
AC/DC100~240V (Frequency 50/60Hz) Power consumption≤5W
DC12~36V  Power consumption≤3W
Use environment
Operating temperature(-10~50℃)No condensation, no icing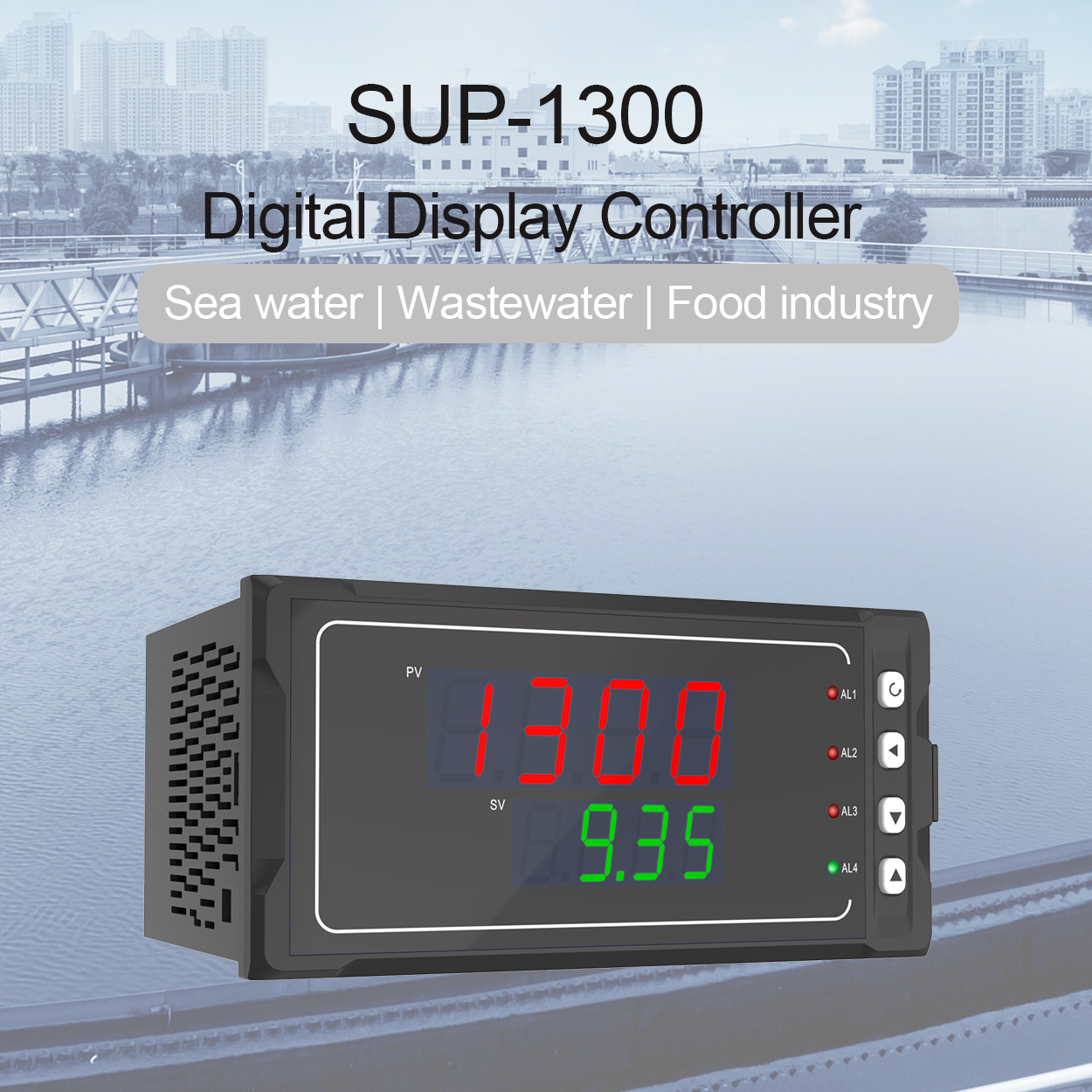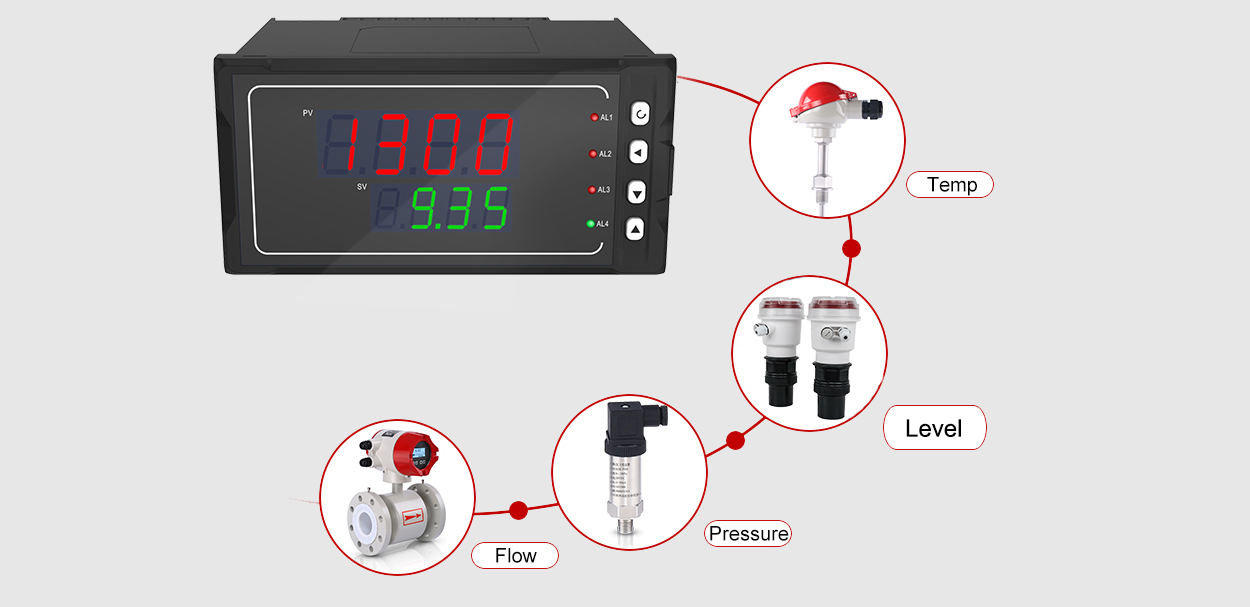 SUP-1300 series easy fuzzy PID regulator adopts fuzzy PID formula for easy operation with measurement precision of 0.3%; 7 types of dimensions available, 33 types of signal input available; applicable to measurement of industrial process quantifiers including temperature, pressure, flow, liquid level, and humidity etc. Combined with all kinds of executors, it's capable of PID regulation and control to electric heating appliances, electromagnetic and electric control valve. Supporting 2-way alarm, 1-way control output or RS485 communication interface adopting standard MODBUS protocol, 1-way DC24V feed output; photoelectric isolation between input, output and power end; 100-240V AC/DC or 20-29V DC switch power supply; standard snap-in installation; operating temperature: 0-50℃, relative humidity: 5-85% RH without coagulation.
Profile of Display Panel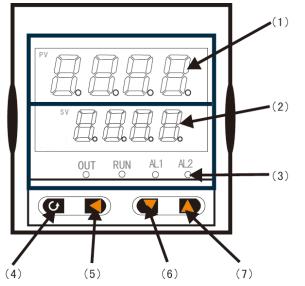 (1) PV Display (measured value)
(2) SV Display
Display parameters like input type in measurement mode;
Display setting value in parameters setting mode;
(3) Primary alarm (AL1) and secondary alarm indication lamp, running lamp (RUN) and output lamp (OUT);
(4) Confirmation
(5) Shift
(6) Decrease
(7) Increase
How to get the core out of shell:
The core of instrument can be taken out from the shell. Push buckles on both sides of the front panel aside, and push the front panel to separate core and shell. For installation, put the core into the shell and lock it with buckles to meet protection standard.
High brightness display
Dual-screen three-digit LED digital display PC mask
High transparency, smooth surface
Good aging resistance
Touch button
Use high-quality silicone buttons
Sensitive operation and long service life
Good touch and good recovery
Ventilation and heat dissipation
Open holes on both sides, convection ventilation to ensure long-term high temperature operation of the instrument
Limit cover protection
Wiring diagram—-to ensure correct wiring
Wiring cover — to ensure wiring safety
Embedded installation
Dial hole, standard size
Fastened by buckle, easy to install
Multiple output types available
4~20mA(RL≤500Ω)
1~5V(RL≥250kΩ)
0~10mA(RL≤1KΩ)
0~5V(RL≥250kΩ)
0~20mA(RL≤500Ω)
0~10V(RL≥4kΩ)
Relay node output
SCR zero-crossing trigger pulse output
Solid state relay drive voltage output
Multiple control methods are available
Positive-acting refrigeration control
Reaction heating control
Position control
Fuzzy PID adjustment control
---
Previous:
SUP-RD902T 26GHz Radar level meter
---